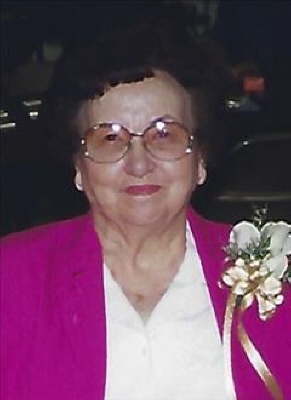 Obituary for Oneta Geis
Oneta Geis, 91, passed away on Thursday, June 20th, 2019 in Lawton, OK. She was born on March 8th, 1928 in Mountain View, OK to Harrison and Dency (Gilbert) Pritchard. She married Harvie Gene Geis on December 29, 1949 in Mountain View, OK. After they married they moved to Roosevelt where they lived until the early 1960's. They then moved north of Mountain View. Then in 2001 they moved into town where they lived the rest of their lives. Oneta was an avid OU sports fan and she enjoyed watching the Thunder play. Her hobbies included sewing, crocheting and working in her garden. Her greatest enjoyment in life came from spoiling all of her grandkids. Oneta was a member of the First Baptist Church, Mountain View, OK.


She is survived by:
Her son, Kevin Geis , and his wife Kelli, of Mountain View, OK
Her daughter, Charlotte Connel of Mountain View, OK
Her grandchildren: Aaron and Anna Connel, Michelle and Marc Ensey,
Her great-grandchildren; Alexys and Tyler Harmon, Audriana Connel, Niklas Whaler, Kyeler Frank, Blake Connel, Eryn Connel, Tatum Ensey, Tanner Ensey, Tuck Ensey
Her great-great-grandchildren; Ainsley Harmon, Taelynn Harmon, Damon Connel and Copelyn Harmon
Her sister, Retha Chappelear of Weatherford, OK
Her brother-in-law and sister-in-law, Bob and Jo Wendelyn Geis

She was preceded in death by her parents, her husband Harvie in 2013 and her siblings; Vernon Pritchard, Leota Garton, Veda Garton and Logan Pritchard.

Funeral Services: 2:00 P.M., Tuesday, June 25, 2019
First Baptist Church, Mountain View, OK
Officiating: Danny Ringer
Interment: Mountain View Cemetery, Mountain View, OK

Services under the direction of Fort Cobb Funeral Home, Fort Cobb, OK.

Messages of condolence may be sent to the family at www.smithfuneralservices.com


**Visitation at Fort Cobb Funeral Home will be on Saturday, June 22, 2019 from 9:00 A.M. to 8:00 P.M., Sunday, June 23, 2019 from 1:00 P.M. to 6:00 P.M. and on Monday, June 24, 2019 from 9:00 A.M. to 8:00 P.M.

Visitation at Mountain View First Baptist Church on Tuesday will be from 10:00 A.M until service time.